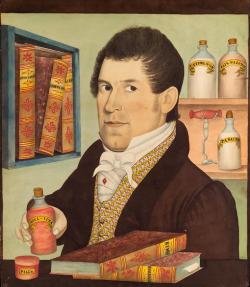 Chris
About
Username

Chris

Joined

Visits

2,632

Last Active

Roles

Administrator, Moderator
Comments
Thanks for posting. Your candlesticks are definitely late 20th century. They could be the work of Liberty Village, a short-lived open air museum of sorts like Sturbridge Village which had craftspeople making historical wares. As for Caspar Wistar a…

Thanks for posting It's hard to be an expert on 20th century crown top soda bottles since there are tens of thousands if not hundreds of thousands of bottlers and bottles out there. It would be helpful for you to list the name of the bottler and the…

Thanks for posting. Your generic pharmacy bottle was produced by the millions for prescriptions. The pharmacist would fill and affix a label. You can see these bottles in the 1933 Owens-Illinois catalog (https://sha.org/bottle/Typing/OI1933/OI1933…

If it had a label it would look something like this (found on Etsy) https://forum.antiquebottles-glass.com/uploads/198/P919AFDKU2BE.jpg

Thanks for posting date = early 20th century purpose = for getting drunk

Yes, ketchup or sauce. Scroll down to page F80 in this 1933 Owens-Illinois catalog. https://sha.org/bottle/Typing/OI1933/OI1933p.pdf

Great find, Harry Armed with that info, here is a link to the patent Patent Number USD18718 Mr. Bloomingdale was founder of the famous Bloomingdale's department store

Joan - Thanks for posting. I would say most bottle collectors know figural guns to be candy containers. All the examples I have seen have threaded openings that are ground on the end. See this eBay auction as an example. I am not saying this bottl…

I have fixed the issue pointed out by - you can now upload files with a JPG extension

About all one can say is that this is a mid 20th century food (possibly oil or sauce) or household product bottle. The mark on the base could very well be that of Owens-Illinois which manufactured an expansive line of generic bottles for all uses..…

I have no question that the bottle and the label are authentic. My gut reaction is that the label may be a bit later than the bottle, but it was common practice in the 19th century to re-use bottles. As medicine bottle forms go, this is a great one…

Thanks for posting - yours is a model post! The first bottle I associate with George Dickel whiskey - see the photo I am attaching of a labeled example that recently sold on eBay. The bottle in this photo is early 20th century - yours, like the oth…

Hi and thanks for posting. Since I am not a hutch soda expert or a metro New York City soda expert, I would take an approach of interpolation - that is, what are similar hutch sodas commonly selling for, what is a rare hutch selling for, etc. But f…

If there are no markings, it is unlikely anyone can ID the manufacturer.

Your mid 20th century whiskey might be 1946...one cannot know precisely what each number on the base means but that is possible. BALL is usually known for their canning jars but here is proof (86 proof :-) they produced bottles as well. Sorry to say…

Thanks for posting How about this? https://www.ebay.com/itm/Vintage-1950s-Mr-Clean-Procter-Gamble-Household-Cleaner-Advertising-Bottle-/163301822410 https://forum.antiquebottles-glass.com/uploads/401/X6Y3WKV09DP8.jpg

Hi Thanks for posting. It's almost certainly a perfume or cologne bottle. A narrow mouth opening would add strength to the identification. One can say it is roughly mid 20th century.

Hi - you have a glass vessel masquerading as a bottle. Rather, it's a lamp base! That slot on the edge of the base is for the lamp cord.

These glasses are modern so it will be more of a challenge to track down the maker. In my mind it is even possible that the FF mark could be a marketing company rather than the actual glass manufacturer.

Thanks for posting. You did a great job cleaning the bottle and preserving the label! Your date range is about right for this British made bottle, my gut feeling is the $50ish range, possibly a bit more. When the label carries the value, then it a…

A key missing component here is the antique one - this jug is not more than 30 years old. I personally do not see any value in it but that's not to say that items like this don't have some small decorative worth... as I say, flea market value.

As shown in the last photo, 4 of your 5 items are medical ampules. In other words, mid 20th century medical waste. The bulb shaped glass object appears to be a light bulb. I cannot tell from your photos but you should see some type of glass stem i…

Is the mouth of the bottle threaded? Is the top of the mouth ground by chance? Any markings on the bottle?

It's a whiskey or other hard liquor bottle. Mid 20th century. I may be able to tell you more based on the D- or R- number on the base.

Please see my many previous comments on this bottle: https://forum.antiquebottles-glass.com/search?Search=perrine

This general style is kinda / sorta similar to what is called "Mary Gregory"

It does have the appearance of a barber bottle - on that much I agree. However, the "Federal Law Forbids...." text is there because it was required, for a time, to be on all bottles containing liquor.

My hunch is that this is a mucilage (glue) bottle. If the stopper appears to be rubber and have a slit it it, then this would confirm my suspicion. Are you sure that patent # is complete and correct? I could not find anything related to that #

Yes, they do have value. The issue, as I point out on my website, is that finding a buyer is not easy. You can't ship them You can't sell them on eBay. Your two best bets are Craigslist or an auctioneer.